Personal Trainers & Fitness Coaches
The Exercise Diet Balance
As a professional Personal Trainer, you know that diet is every bit as important as training in achieving the fitness goals of your clients.
Nutrition And The Olympics
The 2012 Olympics didn't just ignite the UK's competitive spirit; they revealed the amazing variation in dietary requirements for athletes taking part in different disciplines.
Nutritional Awareness
For the average Personal Trainer, nutritional awareness will have been part of their training programme but most don't have access to a specialist nutritional adviser like the coaches who train Team GB athletes.
And most personal trainers know that their clients would benefit from more support and education in nutrition analysis and food programming for better overall health and to support training, coaching and competition performance.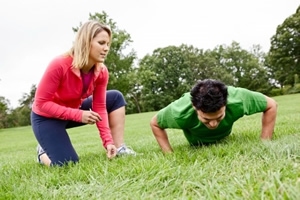 Bradley, Carl And Ellie
Many athletes now choose specialist diets from Paleo to Primal, from Zone to Raw. Trainers need to work with their athletes whether they're balancing protein intake with the gels consumed by Bradley Wiggins, or factoring in Carl Froch's preference for soya milk or Ellie Simmond's four bananas a day diet.
Give Your Clients Your Best
For most personal trainers diet will be a career given, whether they're helping an overweight middle-aged woman slim down or giving an amateur athlete a competitive edge.
Get In Touch With Us
Let us know how we can help you.