Teresa Dupay blog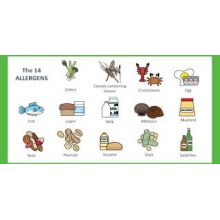 Are You Food Allergen Aware?
There are 14 food allergens that those working in the UK food industry need to be aware of.
This is one of the biggest headaches for businesses in the food and hospitality sectors. Correctly displaying your allergens is easy to get right, but could be disastrous if you get it wrong, with possible legal consequences.
These 14 food allergens, when not mentioned in a recipe, have the potential to severely negatively impact the wellbeing of your customers. Therefore it is key that you understand the strict regulations that ensure your food is safe for your customers to enjoy.
Download your free copy of our 'Professional Caterer's Allergen Handbook' here >>http://menuanalyser.co.uk/SampleReports/ProfessionalCaterersAllergenHandbook.pdf
---
Blogs by Poster
Categories
Tags
Popular & recent